Our Staff
Janice, Haley & Linda on pink shirt day in the office.
JANICE
Janice has an amazing memory!
ribbons@centaurawards.com
When you email your order to ribbons@centaurawards.com it is received by Janice, our Office Manager. Janice has been with the company for over 16 years and is happy to help you with the ins and outs of your order. She will get back to you with a ship date as well as any preliminary questions.
HALEY
Haley competes in fencing!
info@centaurawards.com
After Janice has set your ship date and put your order onto our production schedule, your order then goes to Haley who does all the order "write-ups". She takes what you have emailed and puts it onto our productions sheets for printing and assembly.
MARYBETH
Marybeth loves Centaur, motorcycles and her dog, Maddie!
marybeth@centaurawards.com
After Haley has written up your order, it is checked by two different people – Marybeth (the owner) being one of them. She also emails you your order confirmation and payment instructions.
STEPHANIE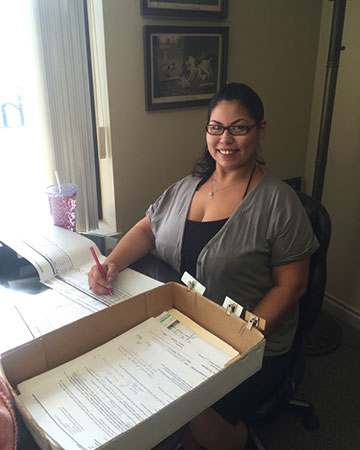 Stephanie loves cats & butterflies!
accounting@centaurawards.com
Your order is carefully checked a second time by Stephanie who joined us almost a year ago now.
PRINTING
Once your order has been written up, double checked and quoted it goes to Kelly and her wonderful staff who print your order for you.
ASSEMBLY
Once the printing is done, your order goes upstairs to Kim and her talented assembly staff who work their magic to hand-craft your beautiful ribbons.
LINDA
Linda recently became a grandmother!
linda@centaurawards.com
Once your order has been printed, assembled and carefully packed, Linda does the payment processing and then sends your order on its way to you.